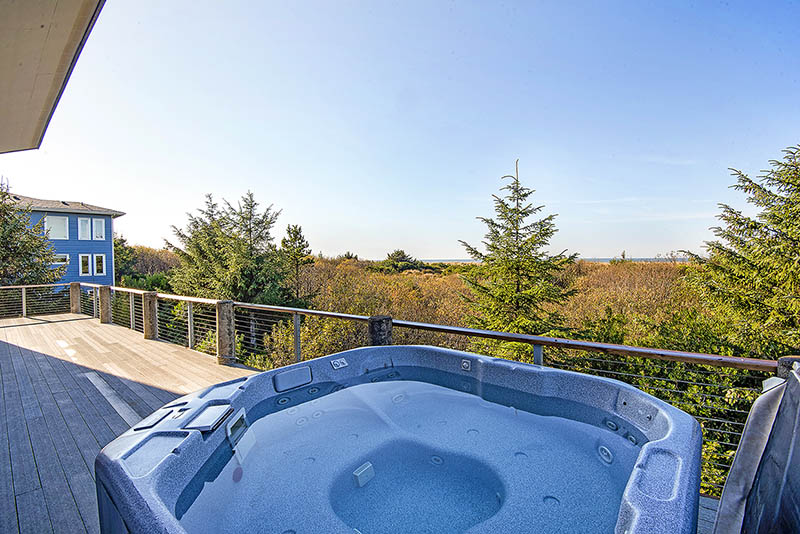 If you're looking for an out-of-this-world beach vacation, Stargazer Landing is the place to touch down! This three-bedroom, two-bathroom, beach-front home is a quirky favorite, with numerous contemporary amenities and local charm. It also offers a well-kept ramp for wheelchair or assisted access and is fully ADA accessible. The home was built with wheelchair users in mind, so don't be surprised by low but still easily used counters and tabletops.
There are two bedrooms on the main floor and a third on the ground floor, which is accessible by an exterior ramp.
About Stargazer Landing
Unique... even by the peculiar... standards of the Washington coast, Stargazer Landing is a charming work of architecture that reminds us of an alien spacecraft setting down to give its crew some much-deserved shore leave! Combining contemporary comforts and looks with local touches (like a sea-glass topped kitchen island and salvaged porthole windows), guests find our home to be an unforgettable place to vacation. Dogs are welcome with an additional fee.
More About Stargazer Landing
The three bedrooms and sleeping spaces offer two queen beds and four twins, ensuring that your group will have plenty of places to berth each night. Two bathrooms are available and stocked with fresh towels. The lower-level bedroom is only accessible via the left garage and includes access to the second bathroom and a washer and dryer, ensuring that your trip will be clean and comfortable no matter the weather.
You'll find a roomy kitchen with new appliances and basic cookware that adjoins the spacious living space and dining area. After your meal, take a seat on our oversized couch with your whole group. Watch a movie or just chat in the cozy atmosphere provided by the wood-burning stove.
The living area looks out onto the wrap-around deck from which spectacular views of the sea (and stars) can be seen. Better still, you'll find a hot tub out there! More adventurous individuals can even try out the UFO Detector, provided for the most inquisitive and courageous of guests.
But since you've traveled through time and space to the coast, you'll want to take a walk down to the beach. Beautiful in the summer, rugged and impressive in the winter, you'll find the beachfront access a treasure worthy of any intergalactic invader.
About Ocean City:
When booking any of our properties in Ocean City, you are just miles away from endless options for seaside activities. When bringing your friends or family along, we're sure that each and every one of you will find an adventure worth diving into.
Visiting during the warm weather? Get ready for the best time of the year to visit us. Ocean City is also a great spot for bird watching. The Pacific Northwest offers great spots for bird watchers.
Ocean Shores is also just a short drive away. Here you can rent a moped or bike and take a ride into town, where you'll find the main drag. Here you'll find locally hand-crafted meals served in the town's restaurants as well as boutiques filled with souvenirs to take home!
The warmer days also mean horseback riding along the beach or whale watching tours, all within a short distance of all of our units.
Want to head to the beach during winter too? That's not a problem! The views are just as beautiful, and it's still a great getaway from your everyday life. The main drag is still just as active with bowling alleys, shops and galleries to keep you busy.
The By The Sea, By The Sea Promise
By The Sea, By The Sea is the only full-stack vacation rental management company in the area. We vow to make booking with us simple and exciting. While others know their way around it, we know that booking a rental property home for your vacation can be unfamiliar territory for some. Because we know this, we ensure that each of our properties is up to high-quality standards.
We do our absolute best to provide support to our guests when booking.
We are available to assist you every day of the year if you have any questions or concerns before, during or after your visit to our home. We have onsite property management available 24/7 for anything concerning that may arise.
Pet Friendly Property
Handicapped Accessible Home
Beachfront Home
Starry Starry Nights
Gas/Charcoal Barbecue (Charcoal Not Provided)
Coffeemaker
Private Hot Tub
High Speed Wireless Internet
Name: Stargazer Landing
Status: Active
Rating:

Type: House
Country: United States
State: Washington State
Destination: Ocean Shores
Location: Ocean City
Setting: Beach Front Area
View: Full Beach View
Internet: Yes
Sq. Ft: 1,115
Floors: 2
Entrance Floor: 2
Bedrooms: 3
Beds: QQTTTT
Bunks: Yes
Baths: 2
Normal Occupancy: 4
Sleeps: 6
Max Occupancy: 6
Parking: 3
Pets: Dogs
Checkin: 05:00 pm or later
Checkout: 11:00 am or earlier
Website: StargazerLanding.com
Manager: By the Sea Vacation Rentals
BED CODES: K=King, Q=Queen, F=Full, T=Twin, C=Futon Couch, M=Mattress, A=Air Mattress, L=Sleeper, S=Sofa, U=Trundle Bed, D=Day Bed
If you're looking for an out-of-this-world beach vacation, Stargazer Landing is the place to touch down!
Property
Child Friendly Unit
Deck Unit
Pet Friendly Property Unit
End table in between beds Unit
Wood Fireplace (Seasonal) Unit
Multiple Car Garage Unit
Electric Floor Heating Unit
Full Kitchen Unit
Ocean Front Location Unit
Patio Lounge Chairs Unit
Multiple Car Parking Unit
Wood stove Unit
All Dogs Allowed Unit
Handicapped Accessible Home Unit
Setting
Beachfront Home Unit
View
Full Water View Unit
Starry Starry Nights Unit
Full Beach View Unit
Kitchen
Waffle Iron Unit
Dining Area Unit
Gas/Charcoal Barbecue (Charcoal Not Provided) Unit
Electric Stove Unit
Toaster Unit
Plateware Unit
Microwave Oven Unit
Blender Unit
Gas/Charcoal Barbecue (Charcoal Not Provided) Unit
Coffee Grinder Unit
Coffeemaker Unit
Cooking Wares Unit
Oven Unit
Paper Towels Unit
Pots & Pans Unit
Cooking Range Unit
Refrigerator Unit
Icemaker Unit
Glassware Unit
Electric Skillet Unit
Flatware Unit
Bath
Toilet Paper Unit
Disabled Access Bathroom Unit
Cleaning
Vacuum Unit
All Linens Provided Unit
Clothes Dryer Unit
Clothes Washer Unit
Dry Cleaning Area, 5 Miles
Convenience
Espresso Stand Neighborhood, 3 Blocks
Family Friendly Unit
Beach Chairs Unit
Baby Crib Unit
Baby High Chair Unit
Ramp for Disabled Access Unit
Playpen Unit
Post Office Area, 5 Miles
Elevator for Disabled Access Unit
Disabled Kitchen Access Unit
Free Parking Unit
Kitchen Table Unit
Wheelchair Accessible Unit
Unreliable Mobile Phone Coverage Unit
Elevator Unit
Services
Convenience Store Neighborhood, 3 Blocks
Grocery Store Area, 5 Miles
Public Library Area, 5 Miles
Hospital Area, 21 to 25 Miles
Full Service Restaurants Area, 5 Miles
Hair Salon Area, 5 Miles
Shops Area
Gift Shops Area, 5 Miles
Banking Area, 5 Miles
ATM Neighborhood, 3 Blocks
Entertainment
Attractions Area
Arcade Games Area, 5 Miles
Binoculars Unit
DVD Players Unit
Family Camp Neighborhood, 3 Blocks
Private Hot Tub Unit
Bingo Gambling Area, 5 Miles
Casino Gambling Area
Board Games Unit
Stereo Unit
VCR Player Unit
Television Unit
Activity
Moped Rentals Area, 5 Miles
Miniature Golf Area, 5 Miles
Camping Neighborhood, 3 Blocks
Birding Unit
Biking Area
Antique Stores Area, 5 Miles
ATV Rentals Area, 5 Miles
Beach Combing Neighborhood, 1 Block
Business
High Speed Wireless Internet Unit
Telephone Unit
Sports
Walking Paths Neighborhood
Saltwater Fishing Area
Laundromat Area, 5 Miles
Hiking Area
Horseback Riding Area, 5 Miles
Golf Courses Area, 5 Miles
Roller Blading Area, 5 Miles
Bikes Provided Unit
Bowling Alley Area, 5 Miles
Attraction
Sandy Beach Neighborhood, 1 Block
Churches Area
Scenic Driving Area
Festivals Area
Special Events Area
Public Parks Area, 5 Miles
National Parks Area, 41 to 50 Miles
Rain Forest Area, 41 to 50 Miles
Movie Theatre Area, 5 Miles
Tavern Area, 2 Miles
Live Music Area, 5 Miles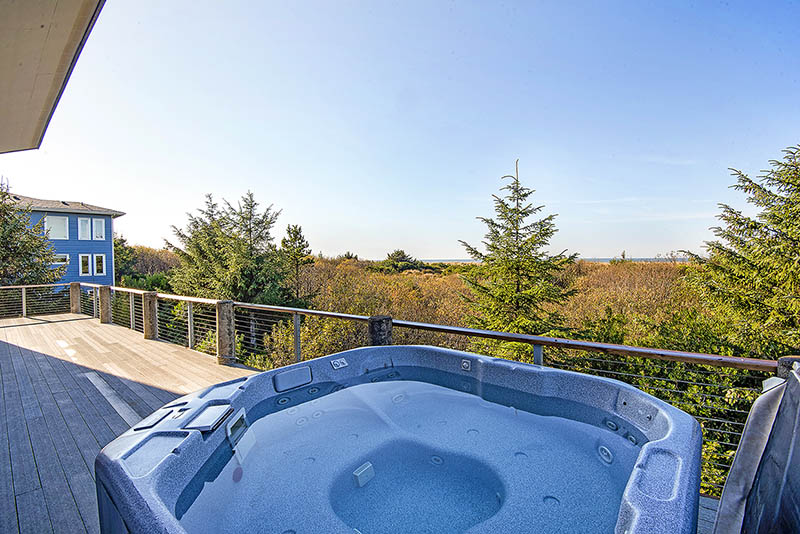 It's so interesting and architecturally designed
We really liked the place. It's so interesting and architecturally designed, which is very comfortable.
Rating Only
Loved it!
We will definitely be looking to rent this unit again and again!
Email Manager
Already a member? Click to login
Not a member? Request info below
Say you saw Stargazer Landing House (1185) on StargazerLanding.com
Close
Subscribe to OceanShores.com Beach Blog
Don't miss anything about the beach. Smell the fresh air,
see the waves, watch the moon. We'll tell you all about it but
only from time to time.
The OceanShores.com newsletter coves all the news, shops,
restaurants, activities and fun. You get specials, discounts and
packages for Inns, Resorts and Vacation Rentals.
Sign up now and you can unsubscribe at any time.
Close
Learn the Secrets of Successful
Vacation Rental Ownership
For vacation rental home owners just starting out. Or those doing rent-by-owner,
or those who need more than their current manager can deliver.
Now you have a better option.
Close
No Longer Recommending or Booking This Property.
But we have others available. (Click Here)